After some days "off" (too busy at work to take care of my blog), this is the second post of my series about how enterprise may support strategy. After human capital comes information capital.
It's about assessing the availability of the information systems, networks and infrastructure which aee needed to support strategy.
A first sight the two concepts are very far one from the other. If we consider Norton and Kaplan's model, we're in the ERP field. As a matter of fact they talk about "transformational applications", " Analytic Applications", Technology infrastructure" and "transaction processing applications".
But it inspires me a few thoughts .
"Transformational application" first. They are systems that support business model change. We can wonder if the switch from industrial models to knowledge oriented ones don't need a kind of application able to harness unstructured contents and, most of all, to support collective intelligence dynamics. In two words : social software. Of course I don't think one can run a business that only relies on this kind of things but that both are complementary accordind to tasks and objectives. The necessity to work on the informal sphere in order to use it for "formal" business purposes seems to be a common issue now (also see that).
This takes me to the second point. If we're talking about systems that can support strategy, we first have to know what's the streategy's content. Since it consider knowledge and networks as a lever, social software has its role to play.
If we lookat this diagram, information capital is suppoed to support innovation and social and regulatory processes.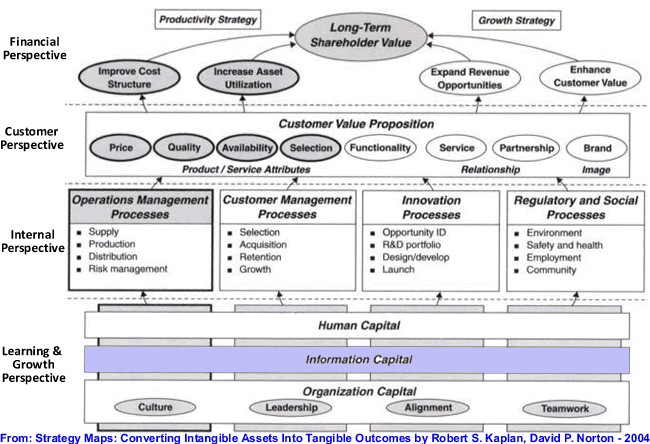 Considering innovation I have  no doubt the underlying tools and interaction and management models in enterprise 2.0 are very appropriate. If many 2.0 projects are about innovation perhaps it's not only luck ! Let's also mention all the projects that involves the enterprise's ecosystem in the innovation process.
Considering regulatory and social processes it's even clearer. We're talking about processes that improve the way communities and environment are taken into account. There again it's one of the enterprise 2.0's dedicated playgrounds, whether it's about taking the most of internal / external communities and informal networks.
Perharps in a next "strategy maps update", Norton and Kaplan will include a new kind of applications in their definition of information capital.